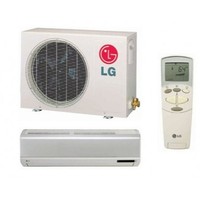 LG LS093HE 10500 BTU Air Conditioner is a Split System air conditioner which has an energy efficiency rating of 10 EER and a cooling capacity of 10,500 BTU/hr.
Compared to all other air conditioners LG LS093HE 10500 BTU Air Conditioner uses moderately less cooling watts (6% less) on the other hand LG LS093HE 10500 BTU Air Conditioner has moderately less air flow (9% less), a moderately less cooling capacity (5%
Compare with other Air Conditioners
Compare
| | | |
| --- | --- | --- |
| LG LS093HE 10500 BTU Air Conditioner | VS | All other Air Conditioners |
Key Features

Brand

Lg

vs
10.3% Air Conditioners have Lg

Type
Split System


Energy Efficiency Rating

10 EER

(0.17 EER lower than average)

vs


Cooling Capacity

10500 BTU/hr

(10490 BTU/hr higher than average)

vs


Dehumidifier
With Dehumidifier Functionality
vs
96% Air Conditioners have With Dehumidifier Functionality

Remote Control
With Remote Control


Fan Speeds (Cooling)

4

(0.39 higher than average)

vs


Additional Features
Tri Zone · Floor System · Ceiling Cassette · Single Zone · Programmable Timer


Description
Lg Ls093he Is A 9, 000 Class (10, 500 Cooling/10, 500 Heating Actual) Btu, Single Zone, Ductless Mini Split Air Conditioner With Heat Pump That Is Wall Mounted. It Features; R410a Refrigerant, Plasma Air Purifying System, Gold Fin Anti-corrosion, Dehumidifying Mode, Chaos Swing, Jet Cool, Cooling Mode, Heating Mode, Fan Mode, Auto Operation, Manual Power Switch, Defrost Control, Temperature Display On Indoor Unit, Auto Sleep Mode, Auto Restart, 24-hour On/off Timer, 4 Fan Speeds, Ultra-quiet Operation, And Evaporator Frost Control. Lg Is Known As A Leader In Ductless Air Conditioner Mini-split Systems. A Ductless Split System Is Similar To A Central Air System; However, This System Is Unique. It Is A Split (2-part) Design. It Comes With An Indoor Air Handler And The Noisy Condenser Which Is Installed Outside. Ductless Air Conditioners Will Not Compromise The Decor Of A Room. You No Longer Need Expensive And Invasive Ductwork.


Other Features

ENERGY STAR
Not Compliant
vs
41% Air Conditioners have Not Compliant

Moisture Removal

3 Pt/h

(1.55 Pt/h lower than average)

vs


Air Flow

330 CFM

(31.25 CFM lower than average)

vs


Swing Louvers
Chaos


Electrical Requirements

Cooling Watts

980

(211.08 lower than average)

vs


Voltage

115

(33.46 lower than average)

vs


Heating Watts

980

(978 higher than average)

vs


Dimensions

Width

30.31

in.

(6.2 in. higher than average)

vs


Height

21.31

in.

(85.66 in. lower than average)

vs


Depth

9.63

in.

(10.06 in. lower than average)

vs


Product Codes

MPN
LS093HE