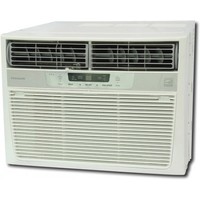 Frigidaire FRA126CT1 12000 BTU Air Conditioner is a Thru-Wall/Window air conditioner which has an energy efficiency rating of 10.8 EER and a cooling capacity of 12,000 BTU/hr.
Compared to all other air conditioners Frigidaire FRA126CT1 12000 BTU Air Conditioner has a moderately more cooling capacity (9% more), and energy efficiency rating (6% more) on the other hand Frigidaire FRA126CT1 12000 BTU Air Conditioner has much less a
Compare with other Air Conditioners
Compare
| | | |
| --- | --- | --- |
| Frigidaire FRA126CT1 12000 BTU Air Conditioner | VS | All other Air Conditioners |
Key Features

Brand

Frigidaire

vs
11.7% Air Conditioners have Frigidaire

Type
Thru-wall/window


Energy Efficiency Rating

10.8 EER

(0.63 EER higher than average)

vs


Cooling Capacity

12000 BTU/hr

(11990 BTU/hr higher than average)

vs


Remote Control
With Remote Control


Fan Speeds (Cooling)

3

(0.61 lower than average)

vs


Description
Keeping Your Cool Should Be Effortless, And Now It Is With Frigidaires Fra126ct1 Air Conditioner. It Has A Multitude Features, Including Energy Conservation And Clean Filter Technology. Plus, Its Easy To Operate, So You Can Enjoy Clean, Cool Air All Summer Long.


Other Features

ENERGY STAR
Compliant
vs
59% Air Conditioners have Compliant

Moisture Removal

3.8 Pt/h

(0.75 Pt/h lower than average)

vs


Air Flow

264 CFM

(97.25 CFM lower than average)

vs


Swing Louvers
8-way


Filter
Upfront


Electrical Requirements

Cooling Watts

1110

(81.08 lower than average)

vs


Voltage

115

(33.46 lower than average)

vs


Cooling Ampacity

10.2

(8 lower than average)

vs


Dimensions

Width

19

in.

(5.11 in. lower than average)

vs


Height

14

in.

(92.97 in. lower than average)

vs


Depth

21.25

in.

(1.56 in. higher than average)

vs


Product Codes

UPC
12505273766


MPN
FRA126CT1