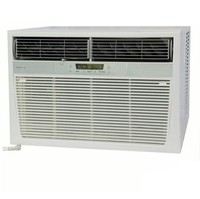 Frigidaire FRA103BT1 10000 BTU Air Conditioner is a Thru-Wall/Window air conditioner which has an energy efficiency rating of 9.8 EER and a cooling capacity of 10,000 BTU/hr.
Compared to all other air conditioners Frigidaire FRA103BT1 10000 BTU Air Conditioner uses moderately less cooling watts (2% less) on the other hand Frigidaire FRA103BT1 10000 BTU Air Conditioner has much less air flow (20% less), a moderately less coolin
Compare with other Air Conditioners
Compare
| | | |
| --- | --- | --- |
| Frigidaire FRA103BT1 10000 BTU Air Conditioner | VS | All other Air Conditioners |
Key Features

Brand

Frigidaire

vs
11.7% Air Conditioners have Frigidaire

Type
Thru-wall/window


Energy Efficiency Rating

9.8 EER

(0.37 EER lower than average)

vs


Cooling Capacity

10000 BTU/hr

(9990 BTU/hr higher than average)

vs


Dehumidifier
With Dehumidifier Functionality
vs
96% Air Conditioners have With Dehumidifier Functionality

Remote Control
With Remote Control


Fan Speeds (Cooling)

3

(0.61 lower than average)

vs


Additional Features
Fresh Air Intake · Programmable Timer


Description
Frigidaire's Fra103bt1 10, 000 Btu Window Air Conditioner Is Perfect For Medium To Large Size Rooms Up To 500 Square Feet. This Unit Has Electronic Controls With A Full Function Remote. The Anti-bacterial Filter Reduces Bacteria, Room Odors, And Other Airborne Particles For A Comfortable Environment. It Also Features Low Voltage Start-up Protection.


Other Features

Moisture Removal

2.7 Pt/h

(1.85 Pt/h lower than average)

vs


Air Flow

289 CFM

(72.25 CFM lower than average)

vs


Swing Louvers
8-way


Electrical Requirements

Cooling Watts

1020

(171.08 lower than average)

vs


Voltage

115

(33.46 lower than average)

vs


Dimensions

Width

19

in.

(5.11 in. lower than average)

vs


Height

14

in.

(92.97 in. lower than average)

vs


Depth

19

in.

(0.69 in. lower than average)

vs


Product Codes

UPC
12505274541


MPN
FRA103BT1