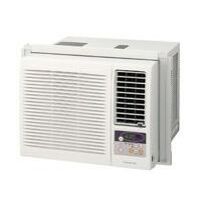 Panasonic CW-XC84HU 7800 BTU Air Conditioner is a Thru-Wall/Window air conditioner which has an energy efficiency rating of 10.8 EER and a cooling capacity of 7,800 BTU/hr.
Compared to all other air conditioners Panasonic CW-XC84HU 7800 BTU Air Conditioner uses much less cooling watts (31% less), and has a moderately more energy efficiency rating (6% more) on the other hand Panasonic CW-XC84HU 7800 BTU Air Conditioner has fa
Compare with other Air Conditioners
Compare
| | | |
| --- | --- | --- |
| Panasonic CW-XC84HU 7800 BTU Air Conditioner | VS | All other Air Conditioners |
Key Features

Brand

Panasonic

vs
2.8% Air Conditioners have Panasonic

Type
Thru-wall/window


Energy Efficiency Rating

10.8 EER

(0.63 EER higher than average)

vs


Cooling Capacity

7800 BTU/hr

(7790 BTU/hr higher than average)

vs


Dehumidifier
With Dehumidifier Functionality
vs
96% Air Conditioners have With Dehumidifier Functionality

Remote Control
With Remote Control


Fan Speeds (Cooling)

3

(0.61 lower than average)

vs


Description
Panasonics Room Air Conditioner Has A Compact Remote Control With 12-hour Delay On/off Setting Timer And Is Fitted With A Removable, Washable Intake Grille For Easy Care. 4-way Air Deflection System Allows For Wide Airflow With 3 Cooling Speeds And 3 Fan Speeds Along With An Auto Restart. The Air Conditioner Can Operate In Economy Operation Mode Or Dry Mode, Has A Ventilation Control And Has A Left Or Right Side Power Cord.


Other Features

ENERGY STAR
Compliant
vs
59% Air Conditioners have Compliant

Moisture Removal

2.3 Pt/h

(2.25 Pt/h lower than average)

vs


Air Flow

212 CFM

(149.25 CFM lower than average)

vs


Swing Louvers
Up / Down · Left / Right


Filter
Reusable


Cooling Operating Range
60 - 86 F


Electrical Requirements

Cooling Watts

720

(471.08 lower than average)

vs


Voltage

155

(6.54 higher than average)

vs


Cooling Ampacity

6.6

(11.6 lower than average)

vs


Dimensions

Width

18.47

in.

(5.64 in. lower than average)

vs


Height

13.91

in.

(93.06 in. lower than average)

vs


Depth

20.66

in.

(0.97 in. higher than average)

vs


Product Codes

UPC
037988931255


MPN
CW-XC84HU