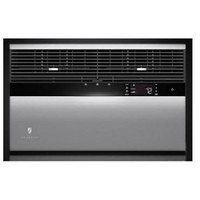 Friedrich YS10M10 9500 BTU Air Conditioner is a Thru-Wall/Window air conditioner which has an energy efficiency rating of 11.7 EER and a cooling capacity of 9,500 BTU/hr.
Compared to all other air conditioners Friedrich YS10M10 9500 BTU Air Conditioner uses much less cooling watts (22% less), and has a moderately more energy efficiency rating (15% more) on the other hand Friedrich YS10M10 9500 BTU Air Conditioner has much
Compare with other Air Conditioners
Compare
| | | |
| --- | --- | --- |
| Friedrich YS10M10 9500 BTU Air Conditioner | VS | All other Air Conditioners |
Key Features

Brand

Friedrich

vs
17.7% Air Conditioners have Friedrich

Type
Thru-wall/window


Energy Efficiency Rating

11.7 EER

(1.53 EER higher than average)

vs


Cooling Capacity

9500 BTU/hr

(9490 BTU/hr higher than average)

vs


Dehumidifier
No Dehumidifier Functionality
vs
4% Air Conditioners have No Dehumidifier Functionality

Remote Control
With Remote Control


Fan Speeds (Cooling)

4

(0.39 higher than average)

vs


Description
The Friedrich Ys10m10 9, 500-btu Cooling Capacity And 7500-btu Heating Capacity Window Air Conditioner With Heat Pump Is Part Of Friedrich's Kühl Programmable Ultra Premium Cooling Line, Which Includes Energy Star® Qualified Units Designed With Commercial Grade Durability For Home Or Commercial Use. With A Host Of Intuitive Features And Flexible Installation Options, The Ys10m10 Provides Comfortable And Even Cooling For Spaces Sized Up To 425 Sq. Ft. And Heating Up To 325 Sq. Ft. 9500 Btu, Ultra Premium, Energy Star Qualified, Programmable, Window Air Conditioner With Heat Pump Has Superior Sound Reduction Technology And Digital Lcd Remote. Washable Antimicrobial Filter For Protection Against Fungal And Bacterial Growth.


Other Features

ENERGY STAR
Compliant
vs
59% Air Conditioners have Compliant

Moisture Removal

1.9 Pt/h

(2.65 Pt/h lower than average)

vs


Air Flow

285 CFM

(76.25 CFM lower than average)

vs


Electrical Requirements

Cooling Watts

812

(379.08 lower than average)

vs


Voltage

115

(33.46 lower than average)

vs


Cooling Ampacity

7.8

(10.4 lower than average)

vs


Heating Watts

743

(741 higher than average)

vs


Heating Ampacity

7.6

(4.44 lower than average)

vs


Dimensions

Width

25.94

in.

(1.83 in. higher than average)

vs


Height

15.94

in.

(91.03 in. lower than average)

vs


Depth

29

in.

(9.31 in. higher than average)

vs


Product Codes

MPN
YS10M10