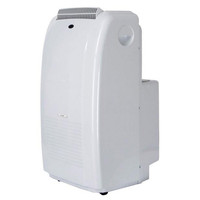 Sunpentown International WA-1340DH 13000 BTU Air Conditioner is a Portable air conditioner which has an energy efficiency rating of 9.42 EER and a cooling capacity of 13,000 BTU/hr.
Compared to all other air conditioners Sunpentown International WA-1340DH 13000 BTU Air Conditioner has a much more cooling capacity (18% more) on the other hand Sunpentown International WA-1340DH 13000 BTU Air Conditioner has far less air flow (35% less)
Compare with other Air Conditioners
Compare
| | | |
| --- | --- | --- |
| Sunpentown International WA-1340DH 13000 BTU Air Conditioner | VS | All other Air Conditioners |
Key Features

Brand

Sunpentown

vs
3.7% Air Conditioners have Sunpentown

Type
Portable


Energy Efficiency Rating

9.42 EER

(0.75 EER lower than average)

vs


Cooling Capacity

13000 BTU/hr

(12990 BTU/hr higher than average)

vs


Dehumidifier
With Dehumidifier Functionality
vs
96% Air Conditioners have With Dehumidifier Functionality

Remote Control
With Remote Control


Description
This 13, 000btu, 4-in-1 System Provides Multi-season Comfort. Designed To Efficiently Cool, Dehumidify, Or Heat Any Space Without Permanent Installation. Effectively Improves Air Circulation In Poorly Ventilated Spaces.


Other Features

Moisture Removal

2.29 Pt/h

(2.26 Pt/h lower than average)

vs


Air Flow

235 CFM

(126.25 CFM lower than average)

vs


Filter
Reusable


Cooling Operating Range
64 - 110 F


Electrical Requirements

Cooling Watts

1380

(188.92 higher than average)

vs


Voltage

115

(33.46 lower than average)

vs


Cooling Ampacity

12

(6.2 lower than average)

vs


Heating Watts

1246

(1244 higher than average)

vs


Dimensions

Width

18

in.

(6.11 in. lower than average)

vs


Height

32.5

in.

(74.47 in. lower than average)

vs


Depth

19.75

in.

(0.06 in. higher than average)

vs


Product Codes

MPN
Wa1340dh