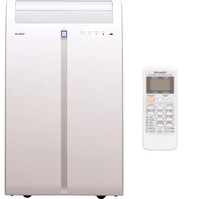 Sharp CV-P10MX 9500 BTU Air Conditioner is a Portable air conditioner which has an energy efficiency rating of 9.4 EER and a cooling capacity of 9,500 BTU/hr.
Compared to all other air conditioners on the other hand Sharp CV-P10MX 9500 BTU Air Conditioner has much less air flow (22% less), a moderately less cooling capacity (14% less), and energy efficiency rating (8% less).
Compare with other Air Conditioners
Compare
| | | |
| --- | --- | --- |
| Sharp CV-P10MX 9500 BTU Air Conditioner | VS | All other Air Conditioners |
Key Features

Brand

Sharp

vs
4.4% Air Conditioners have Sharp

Type
Portable


Energy Efficiency Rating

9.4 EER

(0.77 EER lower than average)

vs


Cooling Capacity

9500 BTU/hr

(9490 BTU/hr higher than average)

vs


Dehumidifier
With Dehumidifier Functionality
vs
96% Air Conditioners have With Dehumidifier Functionality

Remote Control
With Remote Control


Fan Speeds (Cooling)

3

(0.61 lower than average)

vs


Description
Sharpâ S Cv-p10mx Portable Air Conditioner Is Easy To Move From Room To Room. It Provides Quiet Cooling With Sleek And Attractive Styling And A Plasmacluster Ion Generator. Use It As A Dehumidifier To Remove Up To 60 Pints Of Moisture From The Air In A Single Day. A Fully Featured Remote Control With Lcd Display Allows You To Control The Unit From Anywhere In The Room. The Flexible Exhaust Hose And Window Adapter Kit Allow Window Installation And Venting Of The Hot Air, While Keeping Rain And Insects Out.


Other Features

Moisture Removal

2.5 Pt/h

(2.05 Pt/h lower than average)

vs


Air Flow

280 CFM

(81.25 CFM lower than average)

vs


Swing Louvers
Up / Down · Left / Right


Filter
Reusable


Electrical Requirements

Cooling Ampacity

9

(9.2 lower than average)

vs


Dimensions

Width

18.5

in.

(5.61 in. lower than average)

vs


Height

32.3

in.

(74.67 in. lower than average)

vs


Product Codes

UPC
74000662278


MPN
CV-P10MX