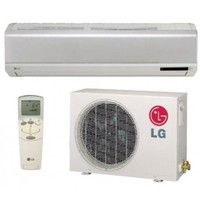 LG LS307HV 30000 BTU Air Conditioner is a Split System air conditioner which has an energy efficiency rating of 10 EER and a cooling capacity of 30,000 BTU/hr.
Compared to all other air conditioners LG LS307HV 30000 BTU Air Conditioner has a far more cooling capacity (173% more), and far more air flow (102% more) on the other hand LG LS307HV 30000 BTU Air Conditioner has a moderately less energy efficiency ratin
Compare with other Air Conditioners
Compare
| | | |
| --- | --- | --- |
| LG LS307HV 30000 BTU Air Conditioner | VS | All other Air Conditioners |
Key Features

Brand

Lg

vs
10.3% Air Conditioners have Lg

Type
Split System


Energy Efficiency Rating

10 EER

(0.17 EER lower than average)

vs


Cooling Capacity

30000 BTU/hr

(29990 BTU/hr higher than average)

vs


Dehumidifier
With Dehumidifier Functionality
vs
96% Air Conditioners have With Dehumidifier Functionality

Remote Control
With Remote Control


Fan Speeds (Cooling)

4

(0.39 higher than average)

vs


Additional Features
Temperature Increments


Description
Lg Ls306hv 26, 400 Btu 15 Seer Heat And Cool Mini Split Air Conditioner With Advanced Inverter Technology, Chaos Swing Air Circulation And Lcd Remote Control. Lg Inverter Mini Split Air Conditioning Models Use A Variable Speed Compressor Which Is Quieter To Operate And Uses Less Energy Than Conventional Air Conditioners. When The Selected Temperature Is Reached, The Inverter Compressor Operates At Low Speed To Maintain That Comfort Level. This Lg Art Cool Inverter Model Has Efficiency Ratings Of 15 Seer, Making This Unit The Most Energy Efficient In Its Class.


Other Features

Air Flow

730 CFM

(368.75 CFM higher than average)

vs


Swing Louvers
Chaos


Electrical Requirements

Voltage

230

(81.54 higher than average)

vs


Dimensions

Width

34.31

in.

(10.2 in. higher than average)

vs


Height

31.5

in.

(75.47 in. lower than average)

vs


Depth

12.06

in.

(7.63 in. lower than average)

vs