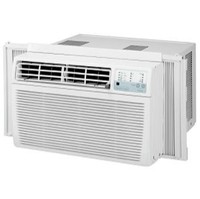 Kenmore 76100 10000 BTU Air Conditioner is a Thru-Wall/Window air conditioner which has an energy efficiency rating of 9.8 EER and a cooling capacity of 10,000 BTU/hr.
Compared to all other air conditioners Kenmore 76100 10000 BTU Air Conditioner uses moderately less cooling watts (2% less) on the other hand Kenmore 76100 10000 BTU Air Conditioner has much less air flow (34% less), a moderately less cooling capacity (9%
Compare with other Air Conditioners
Compare
| | | |
| --- | --- | --- |
| Kenmore 76100 10000 BTU Air Conditioner | VS | All other Air Conditioners |
Key Features

Brand

Kenmore

vs
4.4% Air Conditioners have Kenmore

Type
Thru-wall/window


Energy Efficiency Rating

9.8 EER

(0.37 EER lower than average)

vs


Cooling Capacity

10000 BTU/hr

(9990 BTU/hr higher than average)

vs


Dehumidifier
With Dehumidifier Functionality
vs
96% Air Conditioners have With Dehumidifier Functionality

Remote Control
With Remote Control


Fan Speeds (Cooling)

2

(1.61 lower than average)

vs


Description
Room Air Conditioner With Convenient Electronic Controls/display And A Thermostat. Features Timer (delay, 1/3/6/10 Hrs, On/off, Sleep Mode) And An Auto Restart. Handy Remote Control Included.


Other Features

ENERGY STAR
Not Compliant
vs
41% Air Conditioners have Not Compliant

Air Flow

240 CFM

(121.25 CFM lower than average)

vs


Swing Louvers
Up / Down · Left / Right


Electrical Requirements

Cooling Watts

1020

(171.08 lower than average)

vs


Voltage

115

(33.46 lower than average)

vs


Cooling Ampacity

9.4

(8.8 lower than average)

vs


Dimensions

Width

20.09

in.

(4.02 in. lower than average)

vs


Height

13.88

in.

(93.09 in. lower than average)

vs


Depth

17.63

in.

(2.06 in. lower than average)

vs


Product Codes

UPC
719192761001


MPN
76100