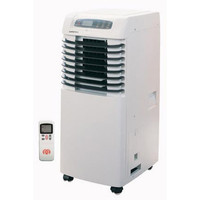 Sunpentown International WA-9020E 9000 BTU Air Conditioner is a Portable air conditioner which has an energy efficiency rating of 10.31 EER and a cooling capacity of 9,000 BTU/hr.
Compared to all other air conditioners Sunpentown International WA-9020E 9000 BTU Air Conditioner uses much less cooling watts (16% less), and has a moderately more energy efficiency rating (1% more) on the other hand Sunpentown International WA-9020E 900
Compare with other Air Conditioners
Compare
| | | |
| --- | --- | --- |
| Sunpentown International WA-9020E 9000 BTU Air Conditioner | VS | All other Air Conditioners |
Key Features

Brand

Sunpentown

vs
3.7% Air Conditioners have Sunpentown

Type
Portable


Energy Efficiency Rating

10.31 EER

(0.14 EER higher than average)

vs


Cooling Capacity

9000 BTU/hr

(8990 BTU/hr higher than average)

vs


Remote Control
With Remote Control


Description
Keep Your Bedroom, Small Apartment, Or Any Space Up To 200 Square Feet Comfortably Cool Using This Energy-efficient Window Air Conditioner. The Sunpentown Wa-6011s Window Air Conditioner Features Affordable Installation With The Window Kit That Comes Standard With The Air Conditioner. Key Features Of This Energy Star-rated Air Conditioner Include Directional Airflow, A Remote Control, And A Programmable Sleep Timer.


Other Features

ENERGY STAR
Not Compliant
vs
41% Air Conditioners have Not Compliant

Moisture Removal

2 Pt/h

(2.55 Pt/h lower than average)

vs


Air Flow

217.77 CFM

(143.48 CFM lower than average)

vs


Swing Louvers
Up / Down · Left / Right


Filter
Reusable


Cooling Operating Range
62 - 110 F


Electrical Requirements

Cooling Watts

873

(318.08 lower than average)

vs


Voltage

120

(28.46 lower than average)

vs


Cooling Ampacity

8.15

(10.05 lower than average)

vs


Dimensions

Width

16

in.

(8.11 in. lower than average)

vs


Height

30

in.

(76.97 in. lower than average)

vs


Depth

16

in.

(3.69 in. lower than average)

vs


Product Codes

UPC
876840000704


MPN
WA9020E