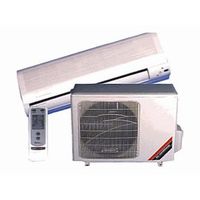 Soleus KFR-18GW 18000 BTU Air Conditioner is a Split System air conditioner which has an energy efficiency rating of 9.9 EER and a cooling capacity of 18,000 BTU/hr.
Compared to all other air conditioners Soleus KFR-18GW 18000 BTU Air Conditioner has far more air flow (149% more), and a far more cooling capacity (64% more) on the other hand Soleus KFR-18GW 18000 BTU Air Conditioner has a moderately less energy efficie
Compare with other Air Conditioners
Compare
| | | |
| --- | --- | --- |
| Soleus KFR-18GW 18000 BTU Air Conditioner | VS | All other Air Conditioners |
Key Features

Brand

Soleus

vs
4.8% Air Conditioners have Soleus

Type
Split System


Energy Efficiency Rating

9.9 EER

(0.27 EER lower than average)

vs


Cooling Capacity

18000 BTU/hr

(17990 BTU/hr higher than average)

vs


Dehumidifier
With Dehumidifier Functionality
vs
96% Air Conditioners have With Dehumidifier Functionality

Remote Control
With Remote Control


Fan Speeds (Cooling)

3

(0.61 lower than average)

vs


Additional Features
Ductless


Description
Split Air Conditioners Are Perfect For Those That Do Not Have Central Air Conditioning, And Do Not Want To Settle For The Noise And Inefficiency Of Window Units. Split Systems Offer Higher Efficiency And Reduced Noise Without A Large Hole In The Wall Or An Open Window. By Separating The Compressor And Condenser Coil From The Fan And Evaporator Coil, The Noisiest Component Is Away From The Room. The Indoor Unit Will Usually Have Remote Control Capabilities And A Timer To Cycle The System Only When Needed. Since Mini Splits Have No Ducts, They Avoid The Energy Losses Associated With Ductwork Of Central Forced Air Systems. Duct Losses Can Account For A Significant Portion Of Energy Consumption For Space Conditioning, Especially If The Ducts Are In A Unconditioned Space Such As An Attic.


Other Features

ENERGY STAR
Compliant
vs
59% Air Conditioners have Compliant

Moisture Removal

3.1 Pt/h

(1.45 Pt/h lower than average)

vs


Air Flow

900 CFM

(538.75 CFM higher than average)

vs


Swing Louvers
Up / Down


Filter
Reusable


Cooling Operating Range
60 - 109 F


Heating Operating Range
28 - 75 F


Electrical Requirements

Cooling Watts

1870

(678.92 higher than average)

vs


Voltage
208 / 230


Cooling Ampacity

8.1

(10.1 lower than average)

vs


Heating Watts

1890

(1888 higher than average)

vs


Heating Ampacity

8.2

(3.84 lower than average)

vs


Dimensions

Width

42

in.

(17.89 in. higher than average)

vs


Height

14

in.

(92.97 in. lower than average)

vs


Depth

11

in.

(8.69 in. lower than average)

vs


Product Codes

MPN
Kfr-18gw