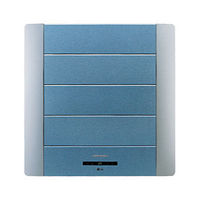 LG LSC091PMA 9000 BTU Air Conditioner is a Split System air conditioner which has an energy efficiency rating of 10 EER and a cooling capacity of 9,000 BTU/hr.
Compared to all other air conditioners LG LSC091PMA 9000 BTU Air Conditioner uses moderately less cooling watts (9% less) on the other hand LG LSC091PMA 9000 BTU Air Conditioner has much less air flow (31% less), a much less cooling capacity (18% less), a
Compare with other Air Conditioners
Compare
| | | |
| --- | --- | --- |
| LG LSC091PMA 9000 BTU Air Conditioner | VS | All other Air Conditioners |
Key Features

Brand

Lg

vs
10.3% Air Conditioners have Lg

Type
Split System


Energy Efficiency Rating

10 EER

(0.17 EER lower than average)

vs


Cooling Capacity

9000 BTU/hr

(8990 BTU/hr higher than average)

vs


Remote Control
With Remote Control


Fan Speeds (Cooling)

4

(0.39 higher than average)

vs


Description
The Lg Art Cool Series Is The Only Mini-split Ductless Air Conditioner Line Which Merges Superior Cooling Performance With Aesthetic Beauty. The Standard Indoor Unit Panel Is A Sleek Stream-lined Metallic Silver, A Beautiful Contrast To The Boxy, Wire Meshed Versions Made By Competitors. Additional Panels May Be Purchased In A Variety Of Stylish Colors Or As Gorgeous Classic Works By Van Gogh And Sisley. They Hang On Your Wall Like A Painting, A Never Before Seen Innovation Only Available From Lg.


Other Features

Moisture Removal

3 Pt/h

(1.55 Pt/h lower than average)

vs


Air Flow

250 CFM

(111.25 CFM lower than average)

vs


Swing Louvers
Up / Down · Left / Right


Filter
Reusable


Cooling Operating Range
64.4 - 86 F


Electrical Requirements

Cooling Watts

940

(251.08 lower than average)

vs


Voltage

115

(33.46 lower than average)

vs


Cooling Ampacity

8.5

(9.7 lower than average)

vs


Dimensions

Width

30.3

in.

(6.19 in. higher than average)

vs


Height

21.3

in.

(85.67 in. lower than average)

vs


Depth

9.6

in.

(10.09 in. lower than average)

vs


Product Codes

MPN
LSC091PMA